We love Fargo, by now I think it's safe to say that much is true. It's important for us that you also know just how special Fargo is, though :)
We compiled a list of some of our favorite summertime activities in Fargo, North Dakota, so you can plan your next day trip around town and enjoy discovering new things!
(1) Spend Some Time in Downtown Fargo: Downtown Fargo is an absolute gem in the summertime in Fargo. Here are some of our favorite things that you can do downtown in the summertime:
Watch a movie at the Fargo Theater: Originally built in 1926, this restored art house theater regularly features independent and foreign films. For a list of current showings, check out their page: http://www.fargotheatre.org/movies

Head to Gallery 4: What makes Fargo so great, decidedly, is its talented population. Gallery 4 is a cooperative art gallery, featuring talented local artists.
Stop in some shops:

Downtown Fargo is home to a plethora of boutiques, featuring both local work and Fargo products. (Some of our favorites are, Fowlers Heritage Company, Lot 2029, Kittsona, Outermost Layer, Proper & Prim, etc.)



Tell YOUR story: A once-a-month event, "The Tell" is a storytelling gathering held at a location around downtown Fargo where people come together and recount some of their best tales. For details about the next event, go here: http://thetellfargo.com/
(2)
Stop and Smell the Roses at the Northern Plains Botanic Gardens:
Free to the public and open from sunrise to sunset, this Fargo gem features a woodland garden, butterfly garden, chrysanthemum garden, alphabet garden, rain garden, Hunger-Free garden, and hummingbird patio.
(3) Enjoy Some Alley Art:
Designated legal street art walls are nestled around downtown Fargo, displaying vibrant beauty on otherwise gray, unused building backs.
(photo via PrairieStyleFile.com)
(4) Attend the Fargo Moorhead Symphony:
Directed by the decorated Chris Zimmerman, our symphony provides a night of local orchestral and chamber music. For current show times, go here: https://tickets.fmsymphony.org/
(5) Check out the Fargo Walk of Fame:
Boasting signatures and handprints of over 110 celebrities from Neil Diamond to Bill Gates, and Garth Brooks to Jesse Ventura, this is a site to see.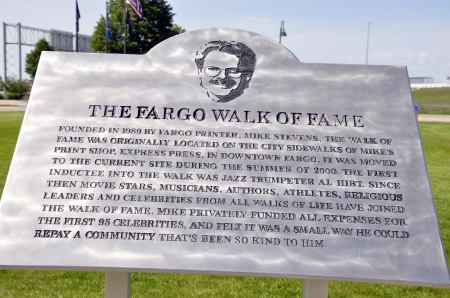 (photo via TworvGypsies.us)
(6) Immerse Yourself in Culture at Plains Art Museum:
Housing 12 exhibits, the Plains Art Museum strives to create a more creative and welcoming community through art. Oh yeah, the Plains Art Gift Shop is also home to some Fargo Stuff merchandise :)
(photo via Travelodge-Moorhead)
(7) Grab a Cup of Coffee:
There is no shortage of good brews in Fargo. Check out some of my favorites:
20 Below - 14 Roberts St N
Babbs - 604 Main Ave
Atomic Coffee - 222 Broadway N, #100
Stumbeano's - 210 Broadway N, #92
Moxie Java - 111 N Broadway
Red Raven - 916 Main Ave
(8) Go for a Ride on Fargo's Bike Trails: Bike paths and trails are scattered across Fargo. Follow the Red River and spend some time in the sun, enjoying the neat-ure.
(9) Treat your Tastebuds at one of Fargo's Many Restaurants:
According to the Downtown Community Partnership, downtown Fargo alone hosts 59 restaurants! Which, granted, probably won't make the game of figuring out where to eat any easier.
(10) Go on a Geocaching Adventure:
If you've never gone geocaching before, stop what you're doing right now and get started! Geocaching is your own treasure hunt, set up across the nation by anonymous individuals, and Fargo is home to its own array of checkpoints.
(photo via Geocaching.com)
(11) Visit the Red River Zoo: Open from 10 AM - 7 PM every day of the week, you can always find fun among the 60 different types of species that find their home in the Red River Valley.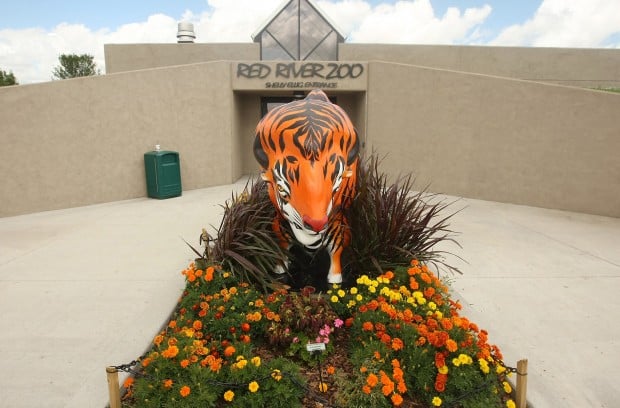 (photo via BillingsGazette)
Whatever you choose to do, just enjoy your experience in Fargo :)
Written by: Kirsten
PR/Marketing Intern for Fargo Stuff