In the words of Frank Ocean, "summer ain't as long as it used to be." At the end of each August, we find ourselves grappling with the terrifying reality that once again summer has ended. No more weekends at the lakes. No more late nights at Newman Outdoor Field. No more excuses for needing Moorhead Dairy Queen to cool off (okay, maybe we still can make a few excuses). Instead, we start gearing up for the cooler weather, sending our kids back to school, and hanging up our NDSU Bison flags outside. The fall is upon us, and every year we must re-learn what there is to do in Fargo in September. Here's a list of some of our favorite early fall activities in Fargo, ND, so you can plan your September weekends accordingly.
Go to a Bison Game
(photo via Fargo Monthly)
If you've never been to the Fargo Dome on a Saturday, you probably are new to Fargo. My first Bison experience was unlike any that I had seen before; I think my eardrums are still recovering. The NDSU Bison are gearing up for the 6th consecutive NCAA championship in a row (you read that right), and there really is no hotter team in town - or in the country! The Bison play Eastern Washington on September 10th at 2:30 pm. If you can get your hands on some tickets, which expectedly are harder to come by this year, you absolutely need to attend. North Dakota State football games are one of the premier September activities in this great city.
Check out the Red River Market
(photo via FargoMoorhead.org)
The Red River Market is back and better than ever this year, thanks to the talented team at Folkways and all of the great local vendors. The Red River Market, as is displayed on their custom sign made by our friends at Office Sign Company, is open from 10 AM - 2 PM on every Saturday through October. This market is entirely free for you to attend, and delicious products including Breadsmith rolls, homegrown vegetables, and Three Bears Honey are all reasonably priced. My first trip to the Red River Market this summer, I took home a bag of cucumbers and a beautiful new plant. I can almost guarantee that you will find something you love at this outdoor market as well. Take a hike on over to 409 Broadway in downtown Fargo before the market closes this year.
Pick Some Pumpkins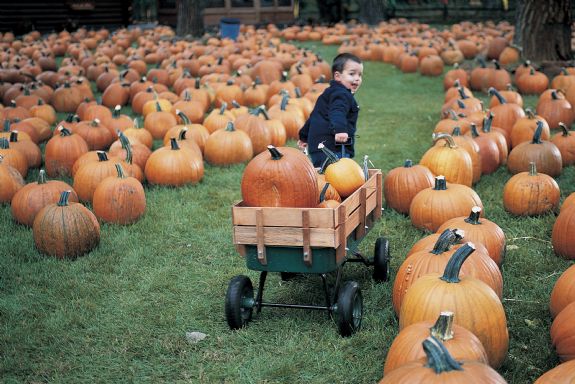 (photo via RoadTripsForFamilies.com)
Ever since I was a little kid, one of my favorite constants of the fall season was going out with my family to pick pumpkins. Lucky for Fargo, we have a variety of great locations to pick pumpkins this summer that I am sure you will love. Probstfield Farm in Moorhead, Dakota Carriage in North Fargo, and Buffalo River Pumpkin Patch in Glyndon are just a few that fit the bill. Take your family out for an afternoon of pumpkin pickin', and then bring them home and carve out some awesome designs. Brownie points to anyone that carves the "Fargo Stuff" logo into their pumpkin - send us a picture and you might be rewarded with something AWESOME.
Attend the Fall Festival



(photo via Fargo Parks)
The fall season in Fargo means a lot of things to a lot of people - but one thing it signals to the whole community is the start of Rheault Farm's "Fall Festival." This year, the good folks at Rheault Farm are opening up the Fall Festival on the weekends of September 17th-18th and September 25th-26th. On Saturdays, the festival stays open from 10a-5p, and on Sundays it is open from 12p-5p. The best part? Admission into the farm is entirely free (although bring some spare cash for food and activities). Kids and adults alike will have a great time at this festival, as it is a surefire way to get into the fall mood. Bring on the cold weather!
----
No matter what you choose to do in the great city of Fargo this September, the real trick to having fun is doing these things with people you love. Get together with the family, call up your buddies, or spend some time with your kids. No matter which option you choose, you're bound to have a great weekend afternoon. For more happenings in Fargo, please feel free to follow us on Facebook, Twitter, Google+, or Instagram, to learn about what else we recommend for your next outing. Oh yeah, you can also see some pretty awesome Fargo merchandise!
Happy September, everyone.