We were recently faced with a bit of a dilemma here at Fargo Stuff. While we fully intended to remain a solely e-commerce based company, our local customer base had other plans. With regular walk-ins wanting to see what kind of products we carried, we would humbly lead them back to our messy shelves in our break room and allow them to take a peek. It was well, less than impressive. This lead us to the realization that we needed some kind of different solution. This is where a dream turned into a vision that turned into a plan….with a little help from Target and Ikea.
It all started with a Pinterest board and a tiny budget, but we must say, we're quite pleased with what it has turned into. This being said, we figured we'd walk you through the making of this showroom; how we started the process, what it looks like, and our heart behind it.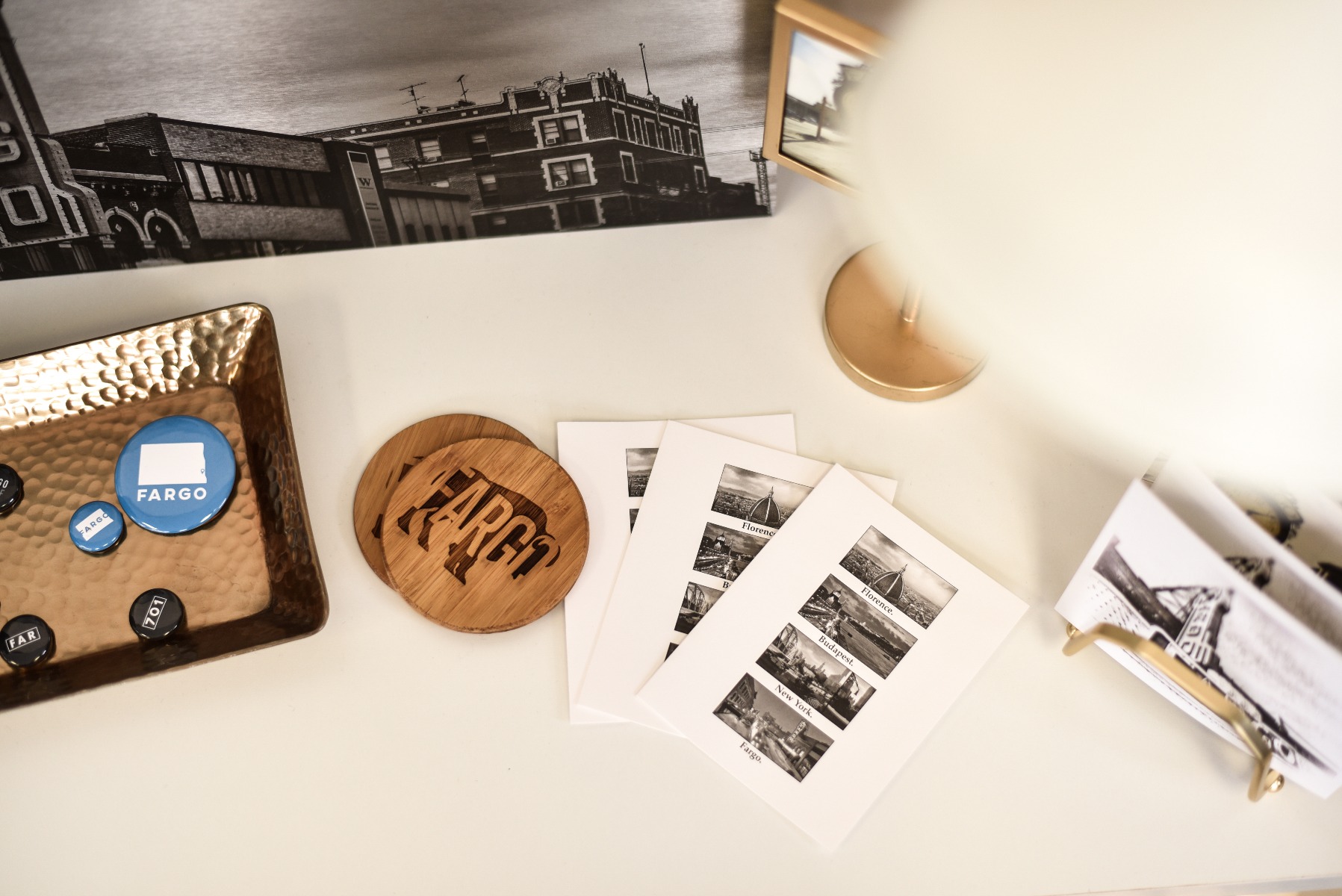 Dream a bit. Get that Pinterest board made and go to town people. As a highly visual person, this was my first step and it made all the difference. Having the opportunity to see what I wanted to create really helped me refine my vision behind this project. It also helped keep me on brand and realize where maybe too much of my story was getting in the way of telling the story of the brand.
Set a budget. This is a vital step in the process. I think having it be the second step is of utmost importance. Putting it first leaves too much room for your creativity to be squashed by a number. Better to dream big first and then come to grips with your budget and find a way to make it work.
Make a plan. Once you have your budget in place, you can start to really nail down the logistics. Find your space, pick your completion date and start checking things off that to-do list!
Purchase what you need….but leave room for those forgotten items. Your budget has been solidified, you have a plan and you're ready to rumble! So get to buying stuff -- just don't forget to leave some room in your budget for those last minute costs that might sneak up. (Think tape, hanging hardware, anything that could have been easily overlooked in the planning process.)
Setup your beautiful showroom. Once you have all of your items purchased, you're ready to set it all up! Just remember, be flexible. What you thought would work in your space might not...so save those receipts and be willing to see things in a different light if needed. It's all about telling the best possible story for your brand.

Take it all in. You're all set-up, ready to announce to the public that your space is open and things are about to get crazy! Be sure to take a moment, step back and admire your hard work.
Promote. Spread the word! Your showroom is open and ready to be seen. Utilize social media, word of mouth and any other applicable channels you see fit for your brand to tell the world that your showroom is open and ready!
Party. The hard work is over, the showroom is complete and it's time to welcome people in with open arms.
Our heart behind the creation of this space is to create an atmosphere that makes people feel at home. It is our desire to see people truly live, love and thrive in this place that we call home. We hope that by opening our doors, more people will be able to experience what Fargo Stuff has to offer and then ultimately share that with friends and family, near and far. So what are you waiting for?! Come say hi at 310 NP Ave. N!