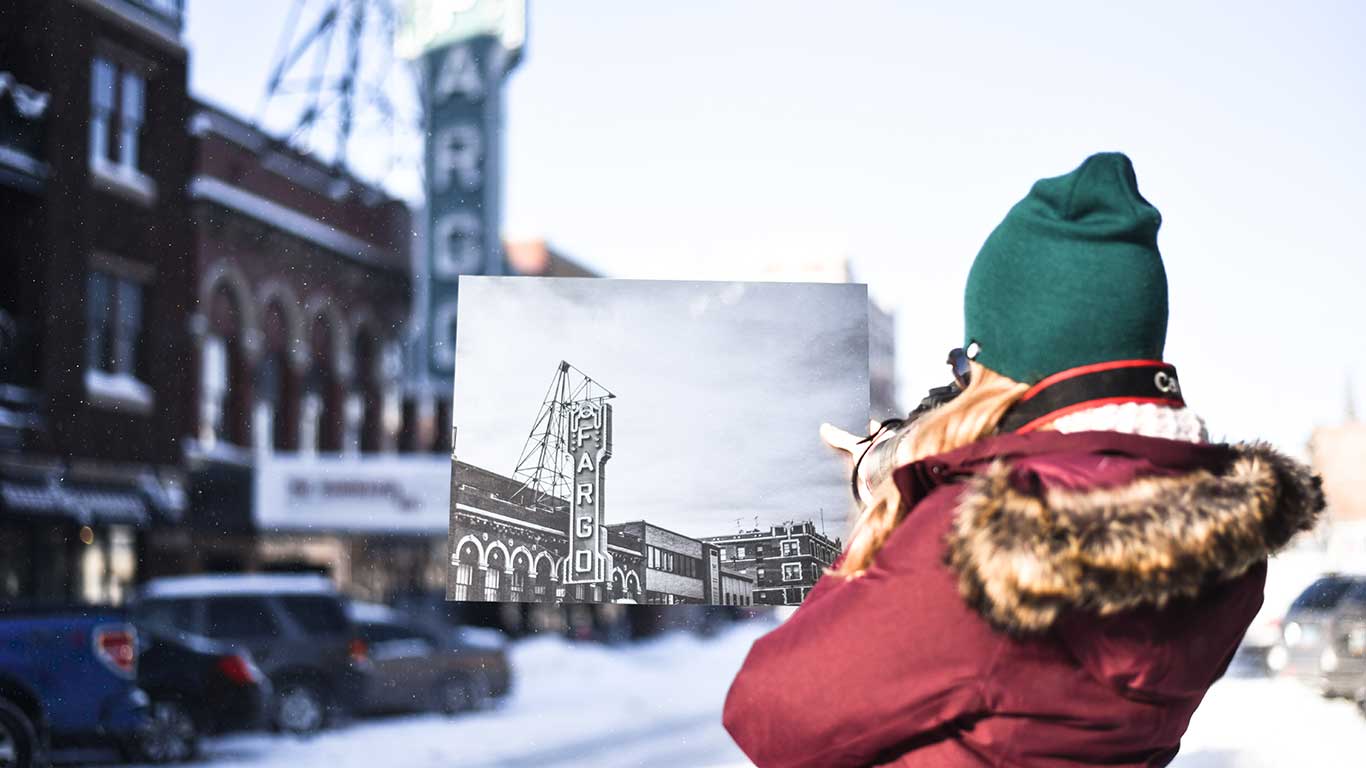 Growing up as an art enthusiast, I've always been inspired by photography - particularly that which casts a unique perspective on familiar landmarks. In my bedroom growing up, I had my parents install a full-wall mural of the Brooklyn Bridge. For five years, my cover photo on Facebook had been the Minneapolis skyline. And now, I'm working with a collection of Fargo artists to offer prints of some of our favorite Fargo and North Dakota scenes. As fellow art enthusiasts can attest, one of the toughest realities is being an art collector on a budget. Looking to both retail some spectacular Fargo-related pieces, while still making them affordable additions to home interiors and offices, the team at Fargo Stuff worked diligently to create products that could be in high in quality and low in price. Thus enters the new era of our Fargo Artist Collection.
The Artists
Through community connections, referrals from other artists, and some new faces applying to sell their artwork on Fargo Stuff, we've been fortunate enough to build a list of ten local artists who currently have their prints/artwork for sale on Fargo Stuff. Not only are these some of the most talented photographers and designers in our area, but they also are equally committed towards our mission to making art more accessible and affordable for interested consumers. Not only would purchasing one of these artists' work beautify your home or office, but 40% of the order total gets donated right back to that artist, to help keep the arts community of Fargo-Moorhead thriving and, as our friend Dayna Del Val puts it, allows for you to #supportlocalart. Let's introduce our starting cast…
In addition to these ten current artists, we continue to add more Fargo Artists every month! Our goal is to become a centralized location for area artists, and art enthusiasts, to meet and share their work. If you'd like to become one yourself, we'd encourage you to follow this link and submit an application to have your artwork considered.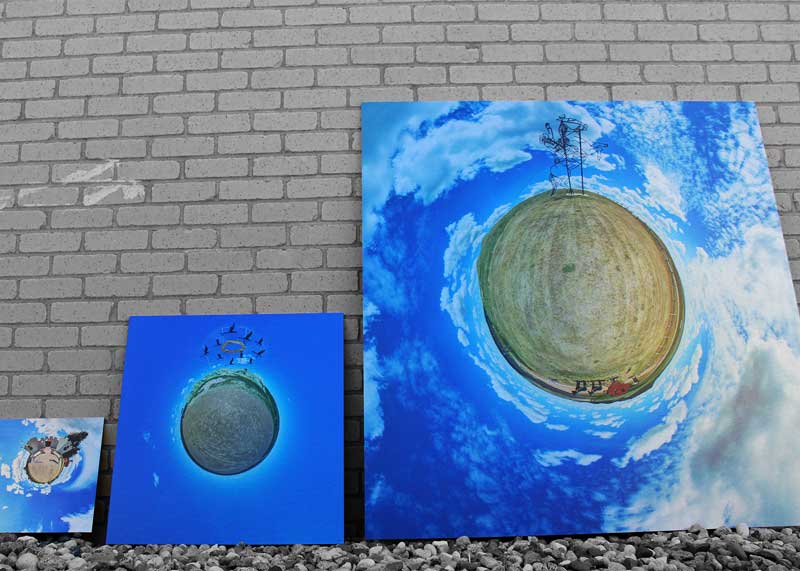 The Prints
So, we've convinced you how great our artists are. Awesome! Now, it's time to discuss a little bit more about our method of printing. For those who don't yet know, Fargo Stuff is an extension brand of Office Sign Company. Through the same high-grade equipment we use to fabricate signage, we've been able to produce some high definition prints on a variety of materials. The print method that we use is called "UV Printing." This, essentially, is a direct-to-substrate style of printing that allows us to produce fine art quality prints on any piece of material within 48" x 96" x 2" thick. Seriously – we've printed on everything from glass sheets to ipad covers. We are certain that customers and artists alike will be pleased with the quality of printing our Artist Collection has to offer.
With a wide range of work from a variety of different artists, we found it necessary to keep some consistency in the mediums on which our Fargo Artists' prints are offered. With virtually every artists' work (excluding paintings, necklaces, and a few posters), we offer the following mediums for which you can purchase prints:
Foam Core: the least expensive option, which still leaves a stunning picture quality, is our foam core printing. On 3/16" thick, white ultra-mount foam core material, these prints are sold with knife-cut edges and high definition imaging. Typical mounting for these prints is 3M Command Strips, which can also be procured through our storefront.
Wood: if you "wood" rather go with this substrate, we're sure you'll still be pleased with the quality of the 3/4" thick birch veneer-coated plywood material. Unlike the smooth, white finish of foam core, our wood option will reveal the birch grain through any negative spaces in the imaging, which makes for a very unique home décor piece. Typical mounting for this is sawtooth picture hangers which are welded onto the backside of the wood.
Metal: the most popular (and most expensive) option that we have for our material is metal. Showing brushed metal strokes through your image, you cannot find a rawer way to print your photos than this. The material is an 1/8" thick polymetal (aluminum) substrate, with sawtooth hangers being used for mounting on the backside.
It is important to note that we're always open to suggestions for other materials to add to our collection! If you'd like to see your image on an acrylic panel, glass, canvas, poster, fabric, or anything else, please let us know! We're open to new suggestions on how we can best display some of this fantastic Fargo art. To make your suggestion, contact service@fargostuff.com and ask for Jack.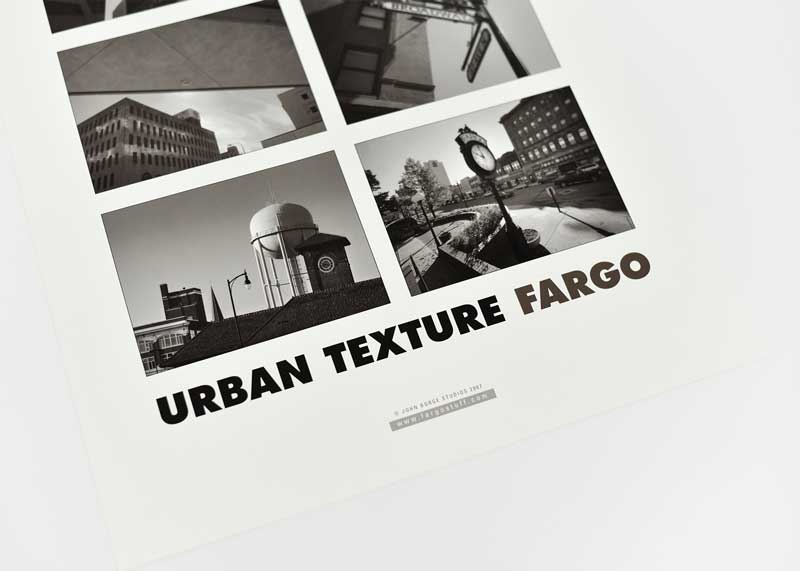 The Price
Yeah, I get it. I keep talking affordability, but how affordable are these, really?! We like to think that by offering the photo prints on a variety of substrates, and at multiple size offerings, we're able to meet just about any budget that exists. Whether you're looking for a 4' high by 4' wide metal print to go on your office wall, or something as petite as an 8" high by 10" wide foam core print for your bookshelf, we've got you covered.
Our most affordable item in the artist collection is a $5.00 poster, with our least expensive foam core print being just over $43.00.
Looking to spend a bit more? Why not? I mean, you are helping a local artist. Well, we do have metal prints that go as high as $400 if you're looking to make a statement with your wall art.
As a safe range, we tell customers that they can find something anywhere between $40 and $400 in our Artist Collection, with the place in that range depending mainly upon the print's size and the print's material.
With 40% of your order total going back to the artist who created the print, you can feel confident that you'll be spending your money in the right place.
Looking for something in particular, and hoping to stay within a certain price threshold? Trust our knowledgeable customer service staff to provide some insight by calling (701)-566-2913 today.
Start shopping for your new favorite piece of Fargo Art today!
Written by: Fargo Stuff Marketing Team
Contact at: service@fargostuff.com
www.fargostuff.com